Rocco & Roxie Professional Strength Stain & Odor Eliminator Review
[vc_row][vc_column width="2/3″][vc_column_text]
Last Updated on
May 17, 2020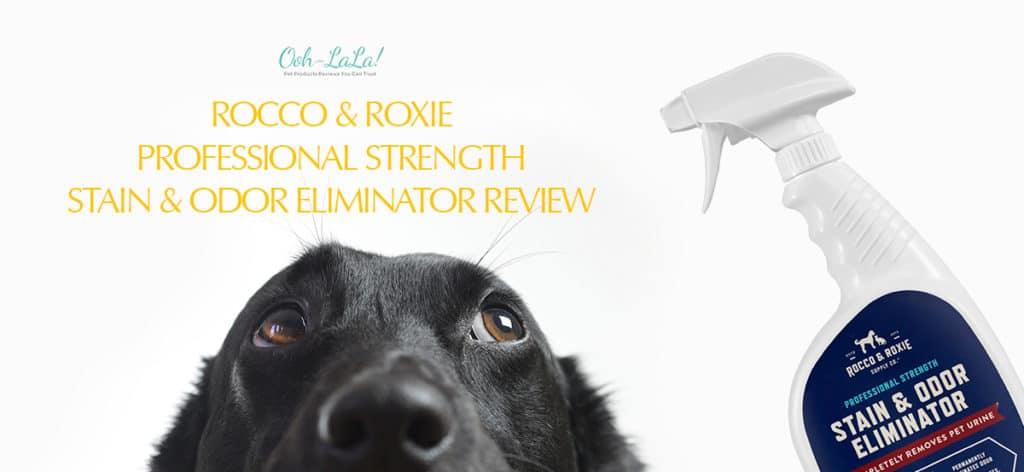 To err, they say is human, but to forgive is divine. So it goes even with your furry friends when they err by either vomiting, urinating or defecating on your carpets, furniture and even car upholstery.
Yes, as a loving and always forgiving pet owner which you are, your responsibility at such times is to equip yourself with the right tool to clean up her mess neatly while calling her to caution. Sure, she won't repeat such next time.
Before you cut in to ask what is the tool you'll need to have a sparkling clean-up of your pet's mess, Rocco & Roxie Professional Strength Stain & Odor Remover is exactly what you need in your home, especially to salvage those days when your furry friend acts naughty.
So, sit back and let this review guide you through why Rocco & Roxie Professional Strength Stain & Odor Eliminator should be your go-to pet odor and stain remover for dog and cat's urine.
[/vc_column_text][/vc_column][vc_column width="1/3″][vc_column_text]
[vc_separator border_width="2″ el_width="70″][/vc_column][/vc_row] [vc_row][vc_column width="2/3″][vc_column_text]
Rocco & Roxie Stain & Odor Eliminator Review: Defining Features
Rocco & Roxie Odor Eliminator is a total saviour when it comes to dispelling irritating odor from cat and dog urine in your home.
Rocco & Roxie is outstanding and very effective as a handy stain and odor remover due to its professional-strength bio-enzymatic formulation, which is composed of ammonia-degrading bacteria.
With the active ammonia degrading bacteria that is present as a core component of Rocco & Roxie Professional Stain and Odor Remover, you are rest assured that the residue of ammonia in cats and dogs' urine which may cause an irritating odor in your home will be handled cleanly.
Another amazing feature that makes Rocco & Roxie odor and stain carpet cleaner loved by many pet owners is the fact that it doesn't bleach carpets, furniture or other surfaces once it has been applied on such surfaces, no matter the quantity applied.
Effective Against Different Organic Stains and Odor
Yes, you may be thinking 'my pet is well mannered and doesn't urinate outside her litter box.' Good one there if she is so tamed. Well, every being (your pets and you, inclusive) have their bad days, and you may be surprised that your furry friend suddenly feels the urge to vomit, and that may just happen right on your cushion.
Similarly, you may mistakenly spill some organic stuff, which may leave a bad smell on your rug over time. At such moments, there is absolutely nothing to worry about because Rocco & Roxie stain eliminator can take care of different organic odor and stains.
Perfect for Just Any Surface
Have you been considering buying different odor and stain removers for your rugs, car upholstery, vinyl and tiles floor, clothing, pet bed and crates? The good news is that you don't have to buy different odor and stain remover for different surfaces. Rocco & Roxie professional strength stain and odor eliminator is formulated to rip any surface of stinking odor and tough stain.
Odor and Stain Activated Enzymes
Rocco & Roxie stain eliminator is formulated with natural enzymatic bacteria that have a high affinity for odors and stain. So, the slightest contact with ammonia crystals from any organic stain and smell puts these enzymatic bacteria to work, until the stain and odor is completely ripped apart.
Absolutely Safe
Rocco & Roxie stain and odor eliminator is chlorine-free enzymatic stain and odor eliminator, which doesn't bleach clothe, rug or furniture when applied on them. More so, it is eco-friendly and very safe for you, your kids and your pets.
Final Verdict
From all regards, Rocco and Roxie Professional Stain and Odor remover rank highest as an effective and handy tool to clean up irritating odor and stains from any organic source in your home.
[/vc_column_text][/vc_column][vc_column width="1/3″] [vc_column_text custom_title="Pros" block_template_id="td_block_template_8″ border_color="#dd9933″ header_text_color="#111111″ f_h4_font_weight="500″]
Strong fragrance
Eco friendly
Doesn't bleach surfaces
[/vc_column_text][vc_column_text custom_title="Cons" block_template_id="td_block_template_8″ header_color="#dd9933″ header_text_color="#111111″ border_color="#dd9933″ f_h4_font_weight="500″]
May not evaporate very quickly if applied in much quantity
[/vc_column_text]
[/vc_column][/vc_row]