Last Updated on
January 3, 2023
Dog beds are quite usual supplies for our canine babies. There are different kinds of pet beds on the market, and orthopedic dog beds are the ones standing out of the row. These beds provide extra support for a dog's body that is very important.
Why You Need a Memory Foam Dog Bed
Why would someone buy an orthopedic bed for a dog? The reasons are the same as they are in case of humans.
Joint and spine issues – This is the main reason that should make pet parents purchase an orthopedic bed for their fur baby. Just like in humans, the construction and materials used in these beds help to get relief from pain. Your dog's sore joints and muscles will be relaxed and less aching when lying on a supportive surface.
Moreover, you can prevent health issues by acquiring orthopedic bed for your dog before she develops such conditions. Many dog breeds like Dachshunds are prone to have spine issues, so their owners can delay problems on years if provide the right place to sleep for them.
Aged dog – As it is said before, almost all older dogs have some kind of bones or joints issues. This fact makes orthopedic bed a must have supply for them. Generally, the memory foam which is the main ingredient of these beds provides the perfect support for all parts of dog's body without excess softness. If you have an orthopedic bed in your bedroom, you know what I mean.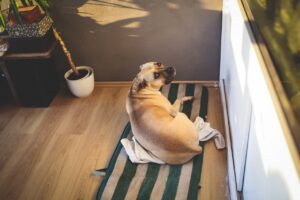 Your aged canine deserves for the proper sleeping place more than ever. If your dog used to sleep on your bed for her younger years, it can become hard and harmful for her to get onto furniture when she's older. This is the time you can offer her a decent replacement which is not worse than your bed. The latest models of orthopedic pet beds are comfy and snug even more than that. Plus, your dog won't have to jump on/off the bed.
Additional comfort – The proper bed for your dog is the one that satisfies her needs. I recommend you to try orthopedic one and see the difference. Supporting and calming effect of memory foam is superior enough to make any dog love it. Want to spoil your pup? Choose an orthopedic bedding for her! That's it.