Angry Orange Pet Odor Eliminator for Dog and Cat Urine Review
[vc_row][vc_column width="2/3″][vc_column_text]
Last Updated on
May 17, 2020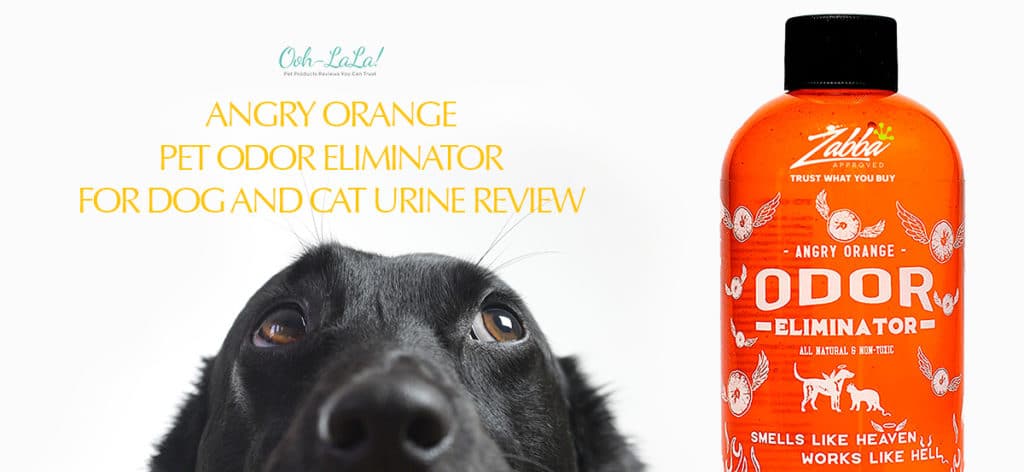 For every giant, there is a supergiant, and for stubborn pet odors, Angry Orange is the taming fragrance. Yes, you read it right.
No doubt, a canine will always remain and act like a canine, and for this fact, your cat or dog is bound to act like one at least once in a while. Like you would rightly guess, whenever your furry friend decides to act naughty, it is a wakeup call that some part of your home will definitely get soiled with urine, faeces, guff and even vomit.
Once this is the case, you need to be on your toes to ensure that you restore a breathable atmosphere to your space with a powerful odor eliminator. Where do you turn to at such times? Still thinking, right?
In this review, we take a keen look at the Angry Orange Pet Odor Eliminator, which is popular in the market as one of the best pet stain remover and strongest neutralizer of bad odor and smell from pets. If I were you, I'll pull up a couch while I read and learn more about this odor buster.
[/vc_column_text][/vc_column][vc_column width="1/3″][vc_column_text]
[vc_separator border_width="2″ el_width="70″][/vc_column][/vc_row] [vc_row][vc_column width="2/3″][vc_column_text]
Angry Orange Pet Odor Eliminator Review: Outstanding Features for Perfect Cleaning
Angry Orange Pet Odor Eliminator is a first-grade odor neutralizer that is produced with a strong flavor of citrus fragrance.
The eco friendly ingredients which are used in the manufacture of this powerful odor remover make it very suitable for all surfaces or materials which you want to get rid of bad odor.
Small bottles size? That's not a problem to the amazing fragrance delivery. In fact, with just the 8-ounce concentrate of the odor bursting Angry Orange Pet Stain Eliminator, you can make about 1 gallon of strong citrus flavored spray.
Safe and Non-Toxic
Angry Orange Pet Urine Remover is made from a natural and biodegradable oil from orange peel, and this makes it very safe for both you and your pets. More so, it is very mild on surfaces and leaves no marks or bleaching effect when used on any surface.
Cool For Multiple Surfaces
To help you fight and win the war against bad pet odor on your floor, carpet, car upholstery, rugs, furniture, and any other place you may be having a bad time with irritating pet smells around your home, Angry Orange Pet Odor Eliminator is safe for use on different surfaces without affecting such surfaces.
Very Strong Citrus Fragrance
Sure, you may be wondering how long 8-ounce of Angry Orange Pet Odor Eliminator will last and help you to fight bad odor around your home. Frankly speaking, you can dilute this up to about 1 gallon and still enjoy a strong and lurking citrus aroma that can last for weeks at each spray.
Easy To Use
Without a need for an extra ingredient or some sophisticated equipment, all you need to do is pour about a teaspoon of Angry Orange concentrate into a clean sprayer, then fill the bottle up with water, and shake to mix. With just that, your Angry Orange odor neutralizer is ready for use.
Final Verdict
Angry Orange Pet Odor Eliminator is a potent odor buster that is well formulated to help you bid a firm goodbye to irritating odor from cat and dog pee, and other organic sources.
With its powerful and lasting fragrance of citrus blast, Angry Orange pet odor remover is very economical to use, especially as it can be used on any surface or material which you wish to bless with a sweet aroma of citrus.
[/vc_column_text][/vc_column][vc_column width="1/3″]

[vc_column_text custom_title="Pros" block_template_id="td_block_template_8″ border_color="#dd9933″ header_text_color="#111111″ f_h4_font_weight="500″]
Strong and lasting fragrance
Easy to prepare
Eco friendly and safe for multiple uses
[/vc_column_text][vc_column_text custom_title="Cons" block_template_id="td_block_template_8″ header_color="#dd9933″ header_text_color="#111111″ border_color="#dd9933″ f_h4_font_weight="500″]
Fragrance may be too strong if not well diluted with a sufficient amount of water
[/vc_column_text]
[/vc_column][/vc_row]