Last Updated on
January 3, 2023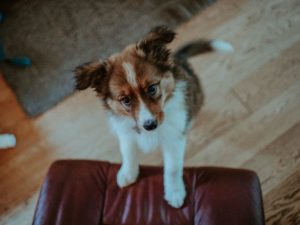 You may see the
dog steps
at the pet store or visiting your friends' house and think about it as excess until your own fur baby requires it too. You also may be looking for a way to build the pet stairs by yourself when finding out they are available for buying like many other pet supplies. In any case, if you're reading this, you have a pet that needs help in reaching tall places.
For this review, we've chosen five best dog steps and best stairs for dogs from the wide range of offers on the market. We have tested their quality, convenience, versatility, and the looks. Here you can find the proper model for any dog along with the explanation regarding our choice.
Who Needs Dog Steps or Stairs?
Small dogs and puppies are the main target audience for pet steps because they physically can't jump on your bed or couch when they want to. They can end up whining on the floor and you will have to lift them every time. It's annoying. Pet steps can make it better for both pet and their parents.
Medium and large dogs need pet stairs when they are ill or weak or elderly to jump on the furniture. This is the case you definitely have to purchase a reliable "steps", because such dogs are quite heavy to lift them with your hands.
The last but not the least reason to get a stairs for bed for your pet is joints and spine issues prevention. There are dog breeds prone to these diseases, like Dachshunds, thus their owners should think about decreasing load on their weak points. Don't omit your veterinarian consultation on this topic though.