Last Updated on
January 3, 2023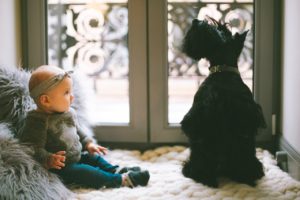 Every dog parent had the time in their life when they needed to prevent the pup from going somewhere in the house. Be it the puppy age when a young dog needs a safe space to play, or a party when you forced to protect your guests and your dog one from another. In great number of cases, an indoor dog gate is a permanent solution for householdings – for different reasons.
Dogs (and human babies too) have to be protected from accessing places where harmful elements are stored. If your pet is prone to get places and mess with things, you definitely should restrict him from the danger zones; and the dog gate is the easiest way to cope with it.
Another popular reason to use the indoor gates is keeping something safe from pets, e.g. your bedroom if the dog is not allowed there, your working place, a Christmas tree, a kitchen and so on. Anything that can be damaged by your pet, especially when you're away, should be protected, and from this article, you will know how to do it with a little effort.
We reviewed more than 20 different dog gates to choose the most stable and convenient options. While doing this, we also considered versatility and customer feedback, so here are our top-rated gates for indoors.