Last Updated on
January 3, 2023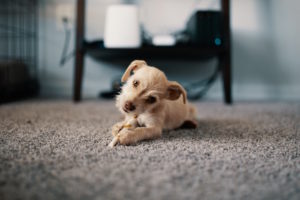 Sometimes dogs, cats and other pets give you "presents". Pet urine stains on your newly purchased carpet.
Both misshapen and with that disgusting smell that every dog owner hates. Sometimes you might even get some brown or yellow stains. Your formerly pristine carpet now looks like a crime scene and smells like a barn.
Thankfully, there is an easy solution. A pet carpet cleaner can quickly and easily manage your pet stain problem. It can also help with any other stains that may have made their way into your house. Choosing the right carpet cleaner takes some time though. Our list will help you narrow down your search for the overall best carpet cleaner for pets.