Last Updated on
January 3, 2023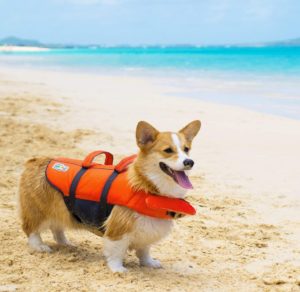 The life jackets for dogs may seem not necessary since everybody knows that dogs can swim very well. In fact, it's not exactly so. Every dog parent must know that canines not very good in swimming by nature. Some breeds are better than other though.
There are dogs that can't swim at all, and their owners may not know about it! All brachycephalic dog breeds, like Pugs, Shih Tzu, and Pekingese, can't swim at all and drown almost immediately if they get into the deep water. Their short skulls, short noses, and flat faces don't allow them to breathe while swimming.
Dogs that are known as good swimmers can get into trouble in the water too. They can get scared, tired or disoriented somehow, that can lead to tragedy. Every pet parent must do anything to avoid the incidents on water, whether it great open waters or backyard pool. The best way available is using the dog pfd every time you take your canine friend to the open water or let him play with you in the pool.
Dog life jackets vary in sizes, construction, type of fasteners, design, and safety features. This guide will help you to choose the one dog life vest that's perfect for you and your pup.