OUT! Pet Stain & Odor Remover Review – Budget-Friendly Option
[vc_row][vc_column width="2/3″][vc_column_text]
Last Updated on
May 17, 2020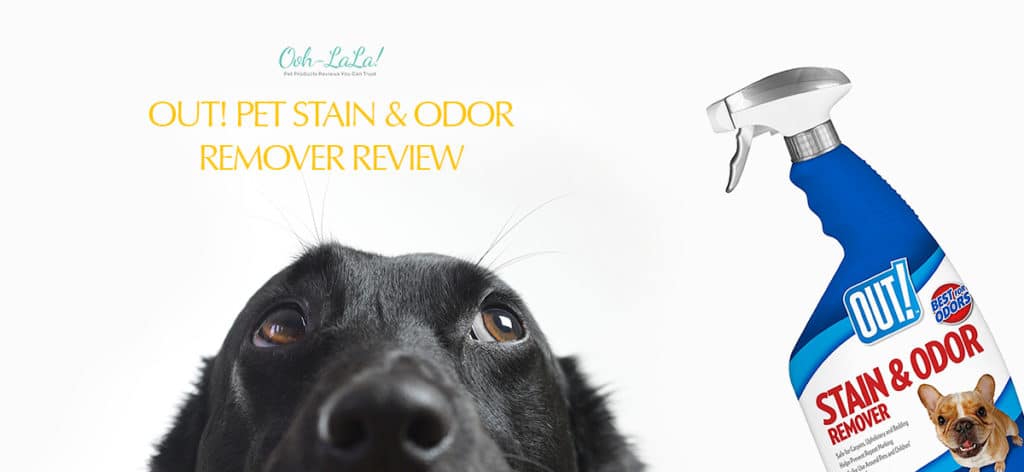 Drastic situations, we know requires drastic measures. So, for stubborn and seemingly tough stains and pet odor, only a tougher and stronger stain and odor remover such as
OUT! Pet Stain & Odor Remover
can give you a winning edge in such a fight.
Like you already know, there are lots of stain and odor remover out there on the shelves and pages of pet shops and online stores, but the question remains "are all pet stain and odor remover equal in effectively dispelling the cruel forces of bad odor and tough stains?"
If you've ever had an encounter with a really tough and stubborn stain or odor, you will understand that only tough and exceptionally powerful pet stain remover such as OUT pet stain and odor remover can quench bad odor within seconds.
Sure, we believe that this pet stain and odor remover review will do justice in helping you see the clear cut difference between this super odor buster and other regular odor suppressants.
[/vc_column_text][/vc_column][vc_column width="1/3″][vc_column_text]
[vc_separator border_width="2″ el_width="70″][/vc_column][/vc_row] [vc_row][vc_column width="2/3″][vc_column_text]
OUT! Pet Stain and Odor Remover Review: Defining Features
OUT! manufactures a powerful pet stain and odor neutralizer that is inspired by nature's cleansing effect.
The cleaning and odor neutralizing efficiency of this odor remover are backed by the cleaning power of natural Pro-bacteria and enzyme formula that can remove the toughest urine, blood, vomit, stool and other organic stain from different water-friendly surfaces.
Very outstanding about OUT pet stain and odor remover is the fact that it cleans deep without any marks or tracing by removing all pheromones that may remind your pet of a particular spot at her favorite peeing spot.
Suitable For Any Water-Loving Surface
Besides having an absolute cleaning effect on pet stains and odor, OUT pet odor remover is also formulated to remove stains on various surfaces that are cool with water.
Whether it is your rug, tile, concrete, furniture, clothes or what have you, this remover is solidly behind you to remove even the toughest of stains on them.
Carpet and Rug Institute Approved
In case you've been thinking if you can use OUT pet stain remover on your rug and carpet without some regrettable accidents such as bleaching or weakening your rug, the good news is that OUT pet stain remover is absolutely safe for your rugs and carpet.
This, you can confirm from the seal of approval by the Carpet and Rug Institute on the product container.
Eco friendly and Safe For Kids and Pets
Despite the deleterious effect of OUT! oxygen activated pet stain & odor remover on various organic stains such as blood, urine, feces, vomit and even irritating odor, this environmental and home-friendly odor busting formulation is pretty safe when in contact with the skin or pet fur.
The Bottom Line
OUT! pet stain & odor remover is a powerful and very effective odor and stain dispelling formulation that is organically produced with natural Pro-bacteria and enzyme.
It is obvious that the manufacturers of this stain and odor neutralizing formulation are keen about human and pet safety in their production. Little surprise they have been able to get full support and backing from the Carpet and Rug Institute.
If the custodian of carpets and rugs could bank so much trust on OUT Pet and stain neutralizer, we will gladly join the parade with our full recommendation of its use as the best stain and odor eliminator.
[/vc_column_text][/vc_column][vc_column width="1/3″] [vc_column_text custom_title="Pros" block_template_id="td_block_template_8″ border_color="#dd9933″ header_text_color="#111111″ f_h4_font_weight="500″]
Strong and lasting fragrance
No marks left on surfaces applied
Carpet and Rug Institute approved
[/vc_column_text][vc_column_text custom_title="Cons" block_template_id="td_block_template_8″ header_color="#dd9933″ header_text_color="#111111″ border_color="#dd9933″ f_h4_font_weight="500″]
[/vc_column_text]
[/vc_column][/vc_row]