Last Updated on
January 3, 2023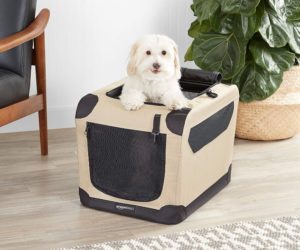 So you've decided to get a soft dog crate for your pup. Or maybe to replace the old one with something better. When you realize that you need a crate for your dog, you probably don't know exactly what to choose. There are so many on the market. So, you finally decide to get an indoors portable dog crate to give your pup its own den or maybe to crate a dog in it while traveling.
There are two basic categories of the crates that satisfy the demands. They are wire crates and the so-called soft dog crate ones. The latter are usually made of fabric and mesh, have plastic or metal frame and zippered doors. If you're reading this article you're obviously put an eye on the soft portable crates.
As the metal crates and soft ones are very different, pet parents need to have some arguments to make a proper choice.
Pros of Soft-Sided Dog Crates and Kennels
The look. Soft sided dog crate is much more beautiful compared to wire analogs.
Easier to carry. You can carry the fabric portable crate with you easily. All the models we review in this article collapse in seconds. You can set them up fast as well. This makes them the best option for traveling, camping, or just taking your pet to the vet.
Quiet. The crucial feature of the soft dog kennel, I'd like to say! Just imagine how loud the metal cage is when the dog is inside. A collapsible dog crate will let you sleep even having it beside your bed.
Collapsible. The soft-sided pet carrier can be folded flat in seconds to save space when not being used. Due to this feature, they differ from the hard carriers, especially for large dogs, which can be really huge and take plenty of space while in use or at storage.
What Are the Cons of Soft Kennels and Crates for Dogs?
Not for chewers and destroyers. Soft crates are not for aggressive dogs and those who are not crate trained. These crates won't withstand claws and teeth.
Limited serving term. Fabric and mesh are not even close to metal when it comes to longevity. Metal may rust or break but fabric can get ripped much easier.