WAHL Clippers Review: Lithium Ion Pro Series Cordless Animal Clippers
[vc_row][vc_column width="2/3″][vc_column_text]
Last Updated on
May 17, 2020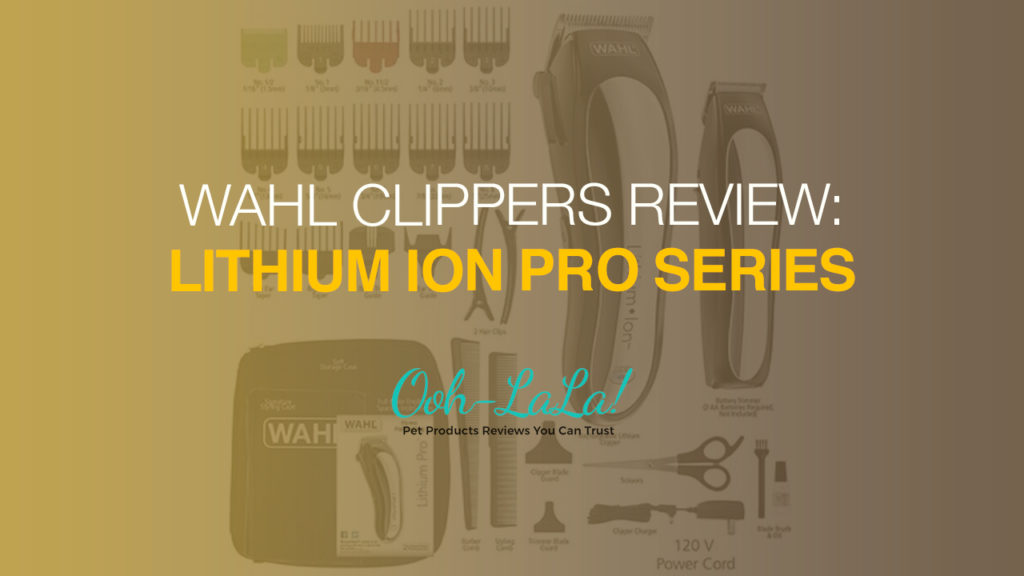 When it comes to grooming the coat of your pet, it is important to use clippers that will give your pet a perfect cut without pain and discomfort. There are many clippers out there, but there are few that can achieve a perfect cut.
One of the clippers that are well-designed to ensure perfect grooming of animal grooming is Wahl cordless clippers. This animal clipper is designed for full-body grooming of different breeds of pets.
Wahl Lithium Ion Pro series cordless animal clippers give uncompromised grooming with flexibility. The battery is perfectly built to quickly charge up to 2 hours run-time that enables you to work with ease like Professional.
Wahl Lithium Ion Pro shows a model of Wahl wireless clippers that come with the fine body design and other features. Let's look at these unique features.
Related post: Best Dog Grooming Clippers
[/vc_column_text][/vc_column][vc_column width="1/3″][vc_column_text]
[vc_separator border_width="2″ el_width="70″][/vc_column][/vc_row] [vc_row][vc_column width="2/3″][vc_column_text]
Wahl Lithium Ion Pro Series Cordless Animal Clippers Features
Clipper comes with special features that give easy operation and quality cut. The features are as follows:
Self- Sharpening Blade
Wahl Lithium Ion Pro Series Cordless Animal Clippers is a self – sharpening device that provides quality cutting. The blade remains sharp to give you convenient grooming without delay.
There is no need to think about how you will sharpen your blade because the blade is sharp with precision for perfect cut and style of your choice.
2- Hour Run Time
Wahl wireless clippers work without consistently for up to 2 hours. It allows multiple cutting sessions before another quick recharge. This decent battery life sustains the speed of the blade until the power is down.
Moreover, there is a provision of 15 minutes quick charge if the power runs out during the grooming session. You don't need to wait until the clipper is fully charged before you use it again.
Wireless and Noiseless
Wahl Lithium Ion Pro Series Animal Clipper is wireless. There are flexibility and easy manoeuvre of Wahl animal clippers. No point in plugging it on power because the run time is long enough to sustain the grooming session.
Quick Recharging
A Wahl cordless clipper is quick to get charged. This Wahl Lithium Ion Pro clipper charges to full capacity within 60 minutes of charging. The holding capacity is up to a year in the lithium-ion battery without memory issues.
Suitable for all kinds of coat
Wahl wireless clipper is a perfect animal clipper for all lengths of hair and breeds of animals. There is no point in buying different clippers for the grooming of different pets.
This Animal Clippers is enough for your grooming. This animal is perfectly designed to meet both general and individual needs.
Provision Of Key Accessories
Wahl Lithium Ion Pro Series Cordless Animal Clippers come with accessories such as four (4) guide combs, scissors, oil and cleaning brush, power cord, and finishing comb.
This American-made long-lasting animal clipper can be adjusted to any level you want to groom the coat of your pet without stress.
Let's check through the Pros and Cons of Wahl Lithium Ion Pro Series Cordless Animal Clippers.
Conclusion
Wahl Lithium Ion Pro Series Cordless Animal Clippers is a cordless, rechargeable Wahl animal clipper that offers quality coat grooming at home. The features above give you the knowledge for a good choice.
[/vc_column_text][/vc_column][vc_column width="1/3″][vc_column_text]
Pros
Animal Clippers can cut all kinds of coats
Self-sharpening blades
2-hour run time
Rechargeable and Cordless
Has kit with other accessories for grooming
Cons
Work best with US Electrical outlets only
Click to Check the Price
[/vc_column_text][vc_separator border_width="2″ el_width="70″][/vc_column][/vc_row]