Oster Pet Clippers Review: A5 2-Speed Grooming Clipper
[vc_row][vc_column width="2/3″][vc_column_text]
Last Updated on
May 17, 2020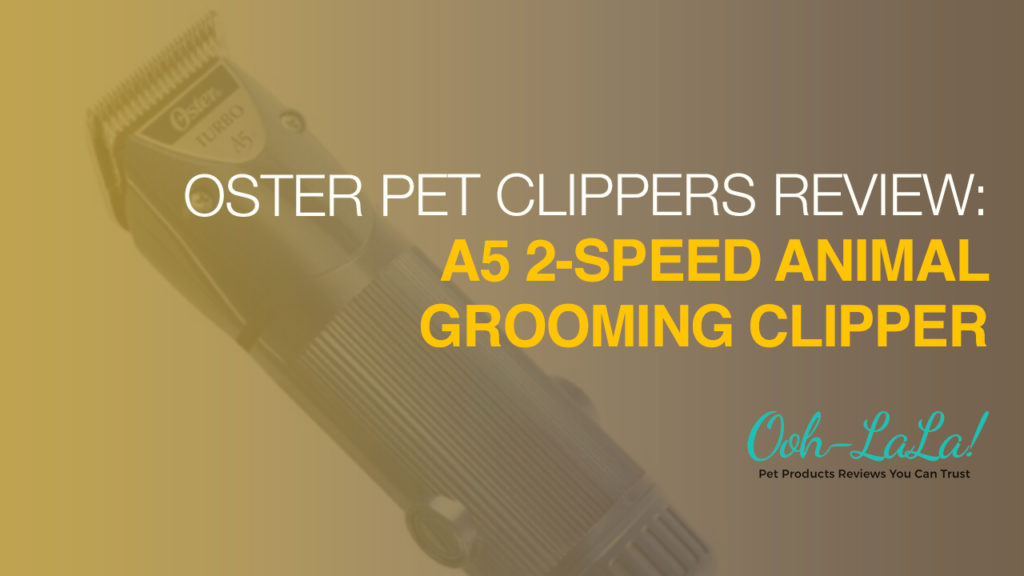 Grooming the coat of your pet at home is a task that saves some dollars in our pocket. However, this is possible when you use the right clipper and other tools for the grooming session. Generally, a good clipper should save time and money.
Choosing a good clipper from the market may look tedious and uncomfortable. Well, no point in disturbing yourself. Oster A5 Clipper is a good option. Oster A5 animal grooming clipper is fast, easy, efficient, and has features such as two speeds, and detachable blades for perfect grooming.
This pet clipper is suitable for delicate parts of your pet such as the feet, the ears, and around the face. The features below might you to order your own.
Related post: Dog Grooming Clippers Reviews
[/vc_column_text][/vc_column][vc_column width="1/3″][vc_column_text]
[vc_separator border_width="2″ el_width="70″][/vc_column][/vc_row] [vc_row][vc_column width="2/3″][vc_column_text]
Oster A5 pet clipper main features list
2-Speed Clipper
Oster A5 clippers have a 2-speed model. The low speed is at 3,000 strokes per minute and the high-speed setting is at 4,000 strokes per minute. This is a very important feature because you are at liberty to regulate the speed and time for grooming.
The low setting provides a quiet and more pleasant grooming experience on sensitive parts with precision. The high setting gives faster trimming of the full-body shave downs.
Detachable Blade
Oster A5 clippers have a detachable blade that makes it easy for trimming with precision and clean up after use. The storage of the clipper becomes safer and easier when the blade is detached.
Besides, the cryogenic treatment for the blades makes it durable. However, it is important to oil the blade before and during the grooming session. This will extend the life of the blade and prevent heat buildup.
Well-designed with lightweight
Oster pet clippers are designed in a way that makes it comfortable to use due to its lightweight. Oster A5 pet clippers are good for different breeds of pets. The design makes changing of blade easy and fast.
Underwriters Laboratories (UL) Approved
Oster A5 pet clippers are underwriters laboratories approved. There is no fear in using it on your pet because it is safe for your pet. The clippers are suitable for trimming of pet both at home and professionally.
Other Important Tools
Apart from 10 CryogenX blades, Oster a5 clippers come with clipper grease, blade oil, clean brush, and replacement carbon brushes.
The Bottom Line
Oster A5 2-speed animal grooming clipper comes with detachable blades that make trimming of pet easy, fast, and simple. The 2-speed setting enables you to regulate the time you spend on grooming.
The design of the Oster A5 clipper is suitable for all lengths of hair and breeds of pets. It is durable and has a lightweight that makes trimming easier with precision and hassle-free.
[/vc_column_text][/vc_column][vc_column width="1/3″][vc_column_text]
Pros
Oster A5 clipper has a 2-speed setting
Specially designed with lightweight to carry
10 detachable blades for perfect trimming
Durable and suitable for different breeds of pet
Suitable for professional and home use
Cons
Cord clipper, not for portable use
There is noise
Click to Check the Price
[/vc_column_text][vc_separator border_width="2″ el_width="70″][/vc_column][/vc_row]