Bousnic Dog Clippers Review: 2-Speed Cordless Grooming Kit
[vc_row][vc_column width="2/3″][vc_column_text]
Last Updated on
May 17, 2020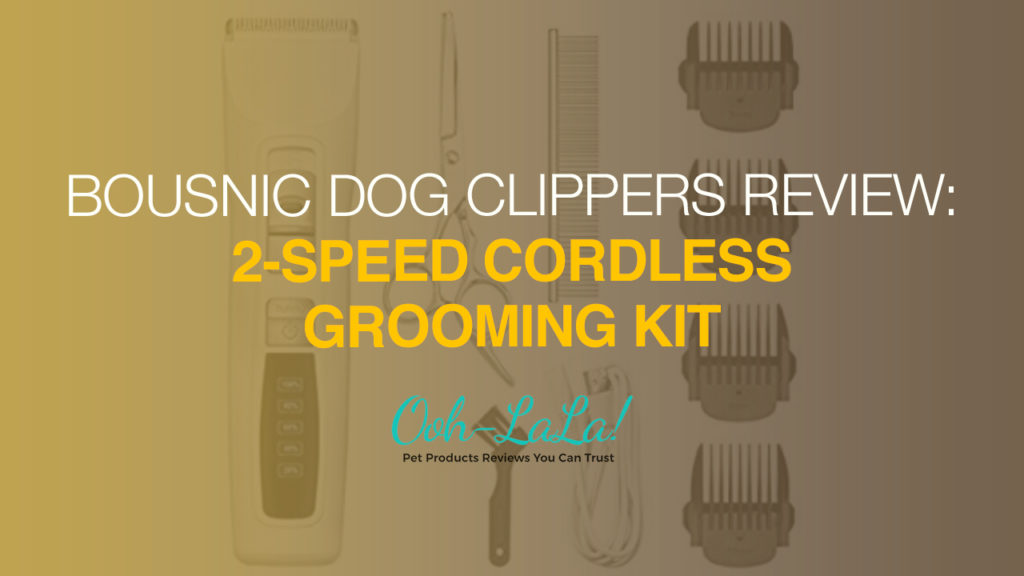 Bousnic Dog Clippers
is a skin-friendly and quiet-running 2-speed cordless pet hair clipper that gives a perfect coat cut. It is a noiseless clipper that is perfect for the grooming of dogs that are allergic to noise from clippers.
It is designed for all dog hair and breeds with complete clipper accessories. It is a rechargeable clipper that has a 2200mAh Li-ion battery that can be easily charged with the use of USB cable.
Related post: Top-rated Dog Hair Clippers 2020
[/vc_column_text][/vc_column][vc_column width="1/3″][vc_column_text]
[vc_separator border_width="2″ el_width="70″][/vc_column][/vc_row] [vc_row][vc_column width="2/3″][vc_column_text]
Awesome Features of Bousnic Dog Clippers
The features of this 2-speed Cordless Pet Hair Grooming Clippers kit are outlined as follows:
Ultra-Sharp Blades with 2-Speed
Bousnic grooms coat without flaws due to its ultra-sharp blades and the speed. It gives your pet a safe and fun-filled experience during the grooming session. The blade is designed to trim a coat of any kind. The blade cuts even the hardest area of the coat with a perfect cut.
Noiseless And Low Vibration
They have less than 50 dB that cause extremely low noise and vibration. This clipper is the best choice for dogs with anxiety when they hear the sound of clippers. Your dog will not feel uncomfortable throughout the session due to the design of the clipper.
Cordless Design With High Precision
Bousnic is a cordless clipper that is designed for high precision during grooming. The clipper is good for the coat of all dogs and breeds. You can easily maneuver the clipper around the dog with ease.
A Complete Set Of Grooming Kit
When you purchase one Bousnic clipper, you don't need to spend your money on accessories because everything you need is in the kit.
It comes with a set of clipper kit that consists of dog clipper, stainless steel comb, stainless steel scissors, USB charging cable, blade oil, well-designed attachment combs of 3mm, 6mm, 9mm, and 12mm dimension as well as user guide.
Rechargeable With USB Cable
Bousnic dog clippers come with a 2200mAh Li-ion battery that you recharge easily with a USB cable. There is a digital battery indicator that will show that the battery is fully charged. You can use your clipper non-stop after charging it.
The Bottom Line
Bousnic dog clippers are skin-friendly quiet-running clippers that give perfect grooming of pet coats at the comfort of your house. The blade has no stress due to its design and high speed.
The battery has a long life span and is easily recharged with a USB cable. Bousnic dog clippers have all the comfort your dog needs during the grooming session.
[/vc_column_text][/vc_column][vc_column width="1/3″][vc_column_text]
Pros
Ultra-sharp blades with high speed
The noise and vibration are extremely low
Comes with rechargeable 2200 mAh Li-ion battery
A set of grooming kit that contains all the necessary grooming accessories you need for perfect trimming
Cordless design for easy navigation through the body of the pet
Suitable for a pet that has anxiety at the sound of clippers
Affordable
Cons
The USB cable comes without an adapter to fit different voltage from different countries
Click to Check the Price
[/vc_column_text][vc_separator border_width="2″ el_width="70″][/vc_column][/vc_row]