Andis Clippers Review 2023: Andis Proclip Ultraedge
[vc_row][vc_column width="2/3″][vc_column_text]
Last Updated on
January 3, 2023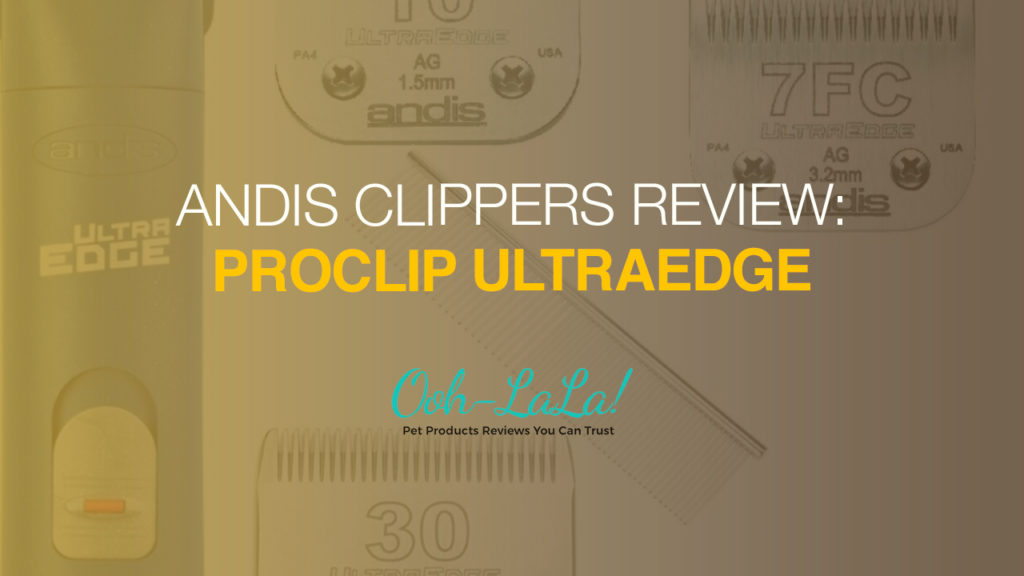 Do you want to save money while ensuring your pet stayed well-groomed and comfortable? Then you will need to check the market for some pet grooming clippers. With the advent of some pet clippers with excellent features, it is now much easier to groom your pet like a professional. Look out for electric trimmers that remove the monthly trips to the groomers while making sure your nervous pet keeps calm.
If you are lost at which pet clipper to get for your pet's grooming needs, then consider this low-vibration, low-noise, low-heat Andis Proclip Ultraedge animal clipper. The clipper has been the choice of pet owners for a couple of years. That, of course, is for a reason.
Related post: Best Dog Hair Clippers 2023
In this post, we will show you some things about this Andis pet clipper and what made it a perfect choice for pet grooming.[/vc_column_text][/vc_column][vc_column width="1/3″][vc_column_text]
[vc_separator border_width="2″ el_width="70″][/vc_column][/vc_row] [vc_row][vc_column width="2/3″][vc_column_text]
Andis Clippers Review: What about This Excellent Andis Dog Clippers?
When you are confused about what type of clipper to choose for grooming your pet, considering this lovely and effective clipper will be a smart choice for you. For many users, the Andis Proclip Ultraedge Clipper has become a perfect tool for grooming the coat of their pet to perfection. It has a beautiful design and well suited for pet grooming that you won't have to go to a professional groomer again before making your dog look good and comfortable.
It is a very handy clipper that is perfect for all dog coats and furs. It has a superb pet-friendly performance with a detachable blade that provides a clean and neat cut. Going through the features of this clipper will reveal to you why most people have preferred it for their pets.
[/vc_column_text][/vc_column][vc_separator border_width="2″ el_width="70″][vc_column width="1/3″][/vc_column][/vc_row] [vc_row][vc_column width="2/3″][vc_column_text]
Why Is The Andis Proclip Ultredge Clipper Perfect For Pet Grooming?
This clipper comes with unique and amazing features that offer quality and easy operation style. Below are some of the features of the Andis clipper.
Detachable Blade Design
Andis Proclip Ultraedge has a detachable blade design. This feature helps you to easily remove and clean the blade during and after use. Besides, you don't need any tool or kit to remove the blade; you can just pull it out anytime with ease.
Moreover, the detachable blade keeps the clipper hygienic and clean for easy use. Your pet is free from infection as a result of the clipper blade you use. This makes you look like a professional.
Speed Rotary Motor
This Andis clipper comes with a 2-speed rotary motor that enhances good performance. You can make it fast or slow it down when grooming. When you want a quick coat cut, you use fast mode.
However, you need to handle the clipper with more care to avoid cut on the skin of your dog.
Suitable For All Coats And Breeds
The blades are specially designed to suit every length and kind of coat and breed of pet. You can easily use it for thick coats without any difficulty.
Since the blades are detachable, you can use different blades for a different pet if you want to change blades. However, you can use the same blades for other pets after sterilizing them.
14-Inch Power Cord
The 14-inch power cord gives you a good speed during the grooming of the coat. There is no hindrance because you can easily maneuver the Andis Proclip Ultraedge clipper through the coat. The 14-inch cord prevents accidental shut-off.
Conclusion
The review of this Andis dog clippers shows that it is a perfect device for grooming your dog. It is easy to operate and clean after use due to its detachable blade. You don't need to learn a new skill before you can use it. You don't have to spend so much on a regular visit to a professional groomer. Get this clipper and gift your dog a new look all by yourself.
[/vc_column_text][/vc_column][vc_column width="1/3″][vc_column_text]
Pros
Easy to operate without acquiring of new skills for grooming
The blade is detachable, which makes it easy to clean after use
This Andis animal clipper is perfect for all coats and breeds due to its powerful motor
It is easy to handle and maneuver during use
You can choose any color of your choice
Cons
A little bulkier and heavier than other models
Some users complain it heats up quickly
Click to Check the Price
[/vc_column_text][vc_separator border_width="2″ el_width="70″][/vc_column][/vc_row]