Boshel Dog Nail Clippers Review — Top Choice For Large Breed
[vc_row][vc_column width="2/3″][vc_column_text]
Last Updated on
May 21, 2020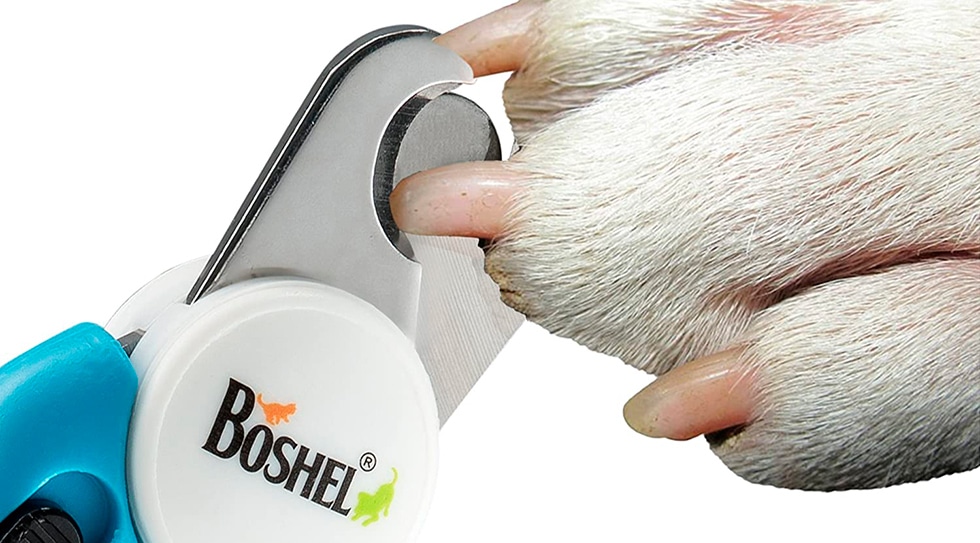 As a loving and caring pet owner, you would likely go the extra miles to ensure that your furry friend looks good and healthy. Obviously, you will do this with glee, in a bid to ensure that her look and overall poise complements yours.
And as a way of ensuring that you live up to these expectations, healthy and nutritious treats are some freebies your dog will be enjoying every now and then. But besides dietary treats, sanitary treats such as a good nail trim is the next in line.
In case you aren't sure of a user-friendly tool that can help you give your dog a fitting nail trim, Boshel dog nail clipper is a reliable and obviously the best nail clipper you need for a perfect job.
In this review, we shall be guiding you through dog nail clippers and trimmer by Boshel as well as how to use them. Read on to learn more about this powerful and easy-to-use pet trimming tool.
[/vc_column_text][/vc_column][vc_column width="1/3″][vc_column_text]
[vc_separator border_width="2″ el_width="70″][/vc_column][/vc_row] [vc_row][vc_column width="2/3″][vc_column_text]
BOSHEL Dog Nail Clippers and Trimmer Review: Awesome Features
Boshel is a handy and easy-to-use dog nail trimming tool that has met the grooming needs of uncountable numbers of satisfied pet owners, dog trainers and even professional pet groomers.
The ergonomically sleek and well-contained design of this pet grooming tool makes is a perfect tool that can help you keep you trim your dog's claws like a pro, even if it is your first time out.
Boshel nail clippers stand out uniquely from other regular pet nail trimmer due to some outstanding features that are only exclusive to this dog nail clippers and trimmer.
High-Quality Stainless Steel Blades
With Boshel clippers, there is no room for some tedious and tiresome dog nail trimming routine. In order to help you out with a clean and stress-free nail trimming every time, the manufacturers of Boshel dog nail clippers used a high-quality stainless steel material with sharp blades as hell for the manufacture of the clipper blades.
Safety Stop
In a bid to prevent trimming your dog nails too short than normal or even injury to your furry friend, Boshel clipper comes with an outfitted safety stops that serve as cut and nick absorbers instead of an injury to your dog.
Free Nail File
Every good nail trimming routine should end with a finishing touch of filing to keep the edges smooth and levelled. This is exactly what the free nail file that comes with Boshel dog nail clippers is meant to help you do.
You can find the free nail file nicely fitted into the left handle of your nail clippers.
Professional and User-Friendly Design
Boshel features a comfortable, easy-grip, non-slip handles that will give you a firm grip while trimming dog nails. With this, you are sure that there won't be accidental cuts and nicks along the way.
Final Verdict
For dog and pet nail trimming tool, Boshel dog nail clippers remain the best option. This in part is due to the ergonomic and user-friendly design and the exceptionally high-grade blade that gives a stress-free trimming exercise.
On a scale of 10-100, we will confidently accord 95 to this handy pet sanitation tool.
[/vc_column_text][/vc_column][vc_column width="1/3″] [vc_column_text custom_title="Pros" block_template_id="td_block_template_8″ border_color="#dd9933″ header_text_color="#111111″ f_h4_font_weight="500″]
High quality and sharp stainless steel blades
Ergonomic and non-slip slip handle
Free nail file included
[/vc_column_text][vc_column_text custom_title="Cons" block_template_id="td_block_template_8″ header_color="#dd9933″ header_text_color="#111111″ border_color="#dd9933″ f_h4_font_weight="500″]
No color variation in design
[/vc_column_text]
[/vc_column][/vc_row]