Review: Precision Pet Soft Sided Dog Crate
[vc_row][vc_column width="2/3″][vc_column_text]
Last Updated on
August 6, 2020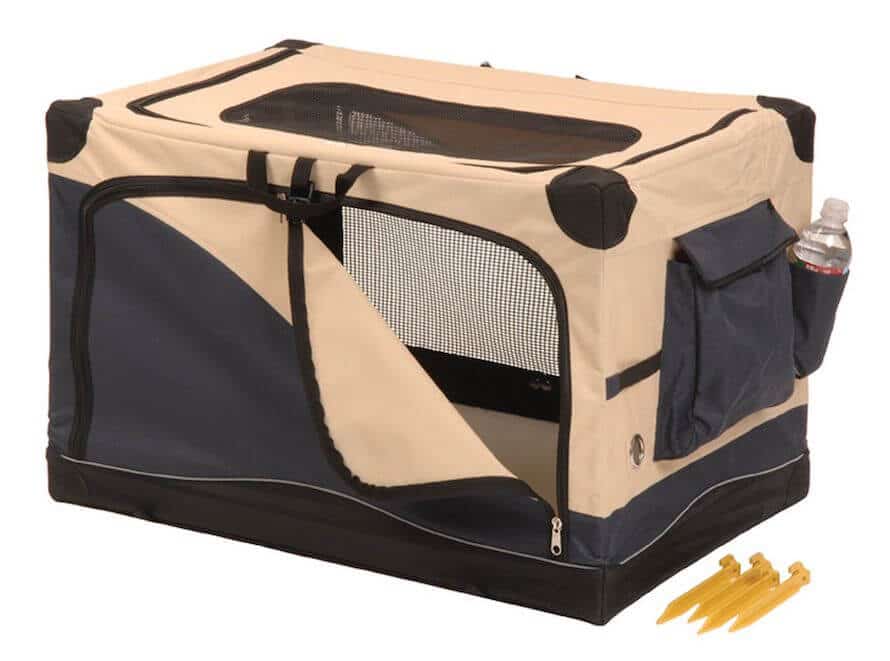 If you're in the market for a
soft-sided dog crate
, you may want to check out the Precision pet crate which comes in multiple sizes and offers you four door openings. No matter which direction you need to face the crate, you've got easy access.
One of the really neat features that come with this Precision Pet Dog Crate is ground stakes. How clever is that? It's perfect for when you need a little extra stability to keep your dog comfortably put, even if they're a mover and shaker.
[/vc_column_text][/vc_column][vc_column width="1/3″][vc_column_text]
A Closer Look at the Precision Pet Products Soft Sided Crate
Water-resistant material:
We listed this as both a pro and a con, but honestly, water-resistant material is well-worth the convenience of this lightweight dog crate. You're not looking for a permanent dog house, so this is more than ample for your needs, and you won't damage it if you want to give it a quick spray and clean with the hose.
Multiple door openings:
Makes it great for maneuverability, especially for transport. Say you use it in the bedroom, and the long side is the opening you use there, but then need to travel. So, you load the dog crate into the back of your SUV, and now you need the narrower side to open. No problem. You'll love this added flexibility.
Pockets for storage:
No more forgetting where you put things when you're on the go. Need to head to a rental home for vacation? It makes it easy to keep things together and pack when it comes to bringing your dog along.
Conclusion
The Precision Pet Soft-Sided Dog Crate is a solid choice for a flexible, foldable, easy to use a crate when you're looking for something that not only works but travels well.
[/vc_column_text][/vc_column][vc_column width="1/3″] [vc_column_text custom_title="Pros" block_template_id="td_block_template_8″ border_color="#dd9933″ header_text_color="#111111″ f_h4_font_weight="500″]
Water resistant material
Flexibility with multiple door openings
Foldable, easy to store and travel with
Multiple sizes available
Pockets for easy storage of things like pet treats, a leash, foldable water bowl and more
[/vc_column_text][vc_column_text custom_title="Cons" block_template_id="td_block_template_8″ header_color="#dd9933″ header_text_color="#111111″ border_color="#dd9933″ f_h4_font_weight="500″]
Water resistant, not waterproof material
No replacement covers for the frame if needed
Some reviewers felt they could have used higher-quality zippers
[/vc_column_text]
[/vc_column][/vc_row]