Plush Paws Pet Car Seat Cover Hammock Review – Great Cover with Pet Harnesses
[vc_row][vc_column width="2/3″][vc_column_text]
Last Updated on
June 25, 2020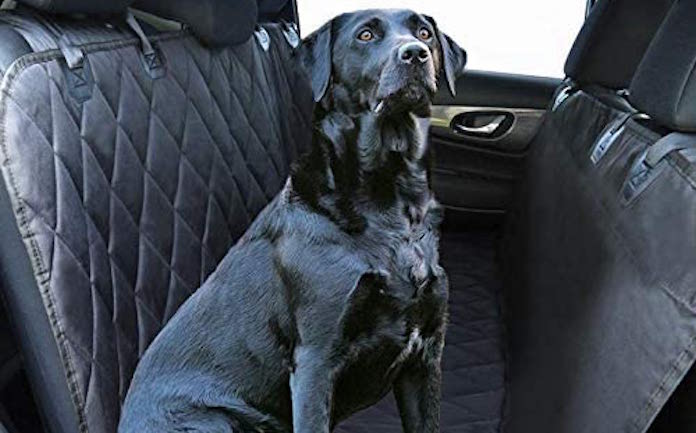 When it comes to an unswerving determination and dedication to the manufacture and supply of premium pet products for cars, Plush Paws remains a brand with lots of useful automotive pet products to give pet owners absolute comfort when moving around with their furry friend.
Among the list of the various high-quality pet supplies you can have from this reputable manufacturer, Plush Paws dog car seat cover is another creative product that have remained very handy to pet owners.
With an outstanding record in the design and manufacture of high-quality car pet seat covers, the Plush Paws hammock happens to be another exquisite car seat cover that has placed another stamp of excellence on this reputable pet supplies manufacturer.
In this review, we shall be taking you through some outstanding features that have made this car seat cover for dogs and exceptional pet supply which has seamlessly stand out from the crowd. Ready for this? Let's go!
[/vc_column_text][/vc_column][vc_column width="1/3″][vc_column_text]
Plush Paws Hammock Dog Car Seat Cover Review: Basic Features
Plush Paws Dog Car Seat Cover is a heavy-duty cover that is designed to withstand and protect your car seat from all the fiery darts pet mess. With a thick design that promises durability, the Plush paws car seat cover is sure to protect your car seat from muddy paws and claws damage to your car seat.
In a bid to ensure that your dog enjoys absolute comfort and enjoys every trip with you on the road, the Plush Paws seat cover is designed with a soft cushion-like material that will give your dog a comfortable seat to relax and bask as she takes a ride with you.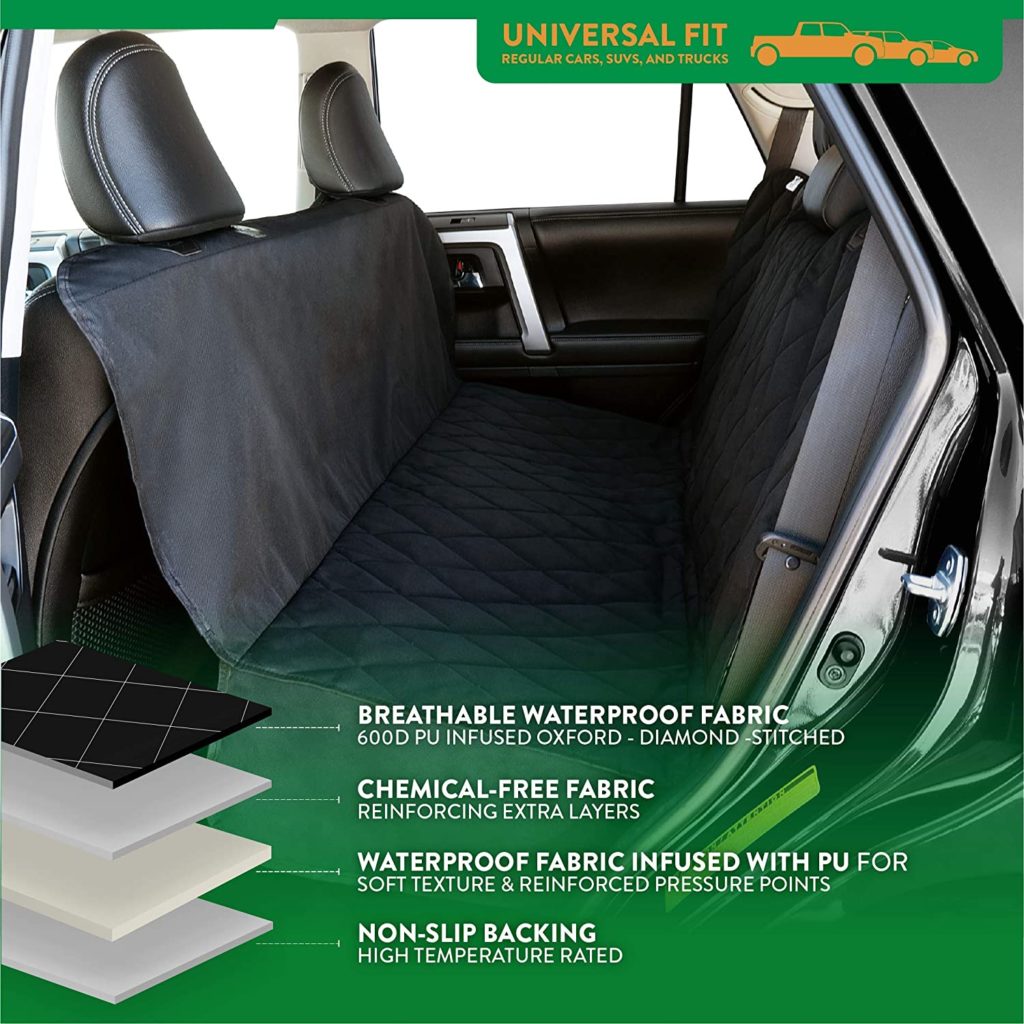 Non-Slip Silicone Backing
Plush Paws cover is designed to give you absolute convenience and flexibility in use, and this is visible in the well-padded and thick design which is accompanied by a non-slip silicone lining at the back.
With this, you are sure that your pet car seat cover won't easily slip off its place or budge as you journey with your furry friend.
Waterproof and Tear-Resistant
Another exquisite feature of the Plush Paws car seat cover is the high-quality tear-resistant material that is used in the design and manufacture of this elegant cover.
In addition to the tear-resistant design, Plush Paws hammock is made of water-resistant material that ensures that liquid doesn't penetrate your car seat cover to generate some stinky smell.
Pet Protection Gear
With the safety of your dog at heart, this seat cover come with different safety features that help to keep your dog in place during a journey.
Typical of such protective gear is a 2 seat belt clips, a seat liner, and 2 harnesses which are strong enough to hold your dog in place during a journey.
Quick And Easy To Install
The simple yet durable design of the Plush Paws makes it very easy to install on your car seat. While installing, you can easily use the straps to hold it around the headrest while inserting the anchors and straps to fasten your pet cover on your car seat for the best puppy ride with your canine friend.
Bottom Line
Plush Paws have seamlessly sealed their determination to produce only the best automotive pet supplies with this pet car seat cover.
With all the outstanding features that accompany this handy pet seat cover, it deserves our warm recommendation to keep your car seat clean all round the clock.
[/vc_column_text][/vc_column][vc_column width="1/3″] [vc_column_text custom_title="Pros" block_template_id="td_block_template_8″ border_color="#dd9933″ header_text_color="#111111″ f_h4_font_weight="500″]
Silicone non-slip backing
Waterproof and tear-resistant material
Quick and easy to install
[/vc_column_text][vc_column_text custom_title="Cons" block_template_id="td_block_template_8″ header_color="#dd9933″ header_text_color="#111111″ border_color="#dd9933″ f_h4_font_weight="500″]
The waterproof surface may be noisy during a ride
[/vc_column_text]
[/vc_column][/vc_row]